ARCA-Consult GmbH

We are entrepreneurs with clear values, unmissable enthusiasm and authentic convictions. ARCA-Consult is a solid consultancy firm and funds its activities from its own resources.
Driven by a desire to ensure smooth interaction between IT and its human operators, Doris Tietze founded the international company from Pfaffenhofen a. d. Ilm in 2003. Her daughter Janine Altendorfer joined the firm in 2018, ensuring that the family business will continue to operate with its traditional values.
ARCA-Consult has evolved to become a truly unique company. Our hallmarks include appreciation of our staff and our commitment to reconciling family life with the demands of a career. The consultancy services we offer are our greatest strength, which we develop continuously based on practical experience and research findings.
It is thanks to our staff and partners that we are able to acquire a better understanding of the challenges facing our clients and to offer solutions that are better than our competitors. This builds of course on our services, innovative implementation measures and the associated outstanding quality.
Multiple TOP CONSULTANT awards confirm this excellence. The distinction is particularly pleasing for us, as the difficult circumstances of the corona crisis required a radical rethink of many areas and a willingness to venture into completely new directions. We managed to rise to these various challenges together with our clients and our brilliant team.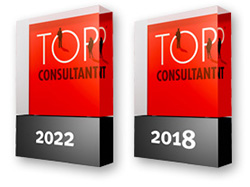 The TOP CONSULTANT assessment criteria. 
Consultancy services that address the needs of clients and are focused on small to medium-sized enterprises are the key criteria for the award.
Learn more about the assessment criteria